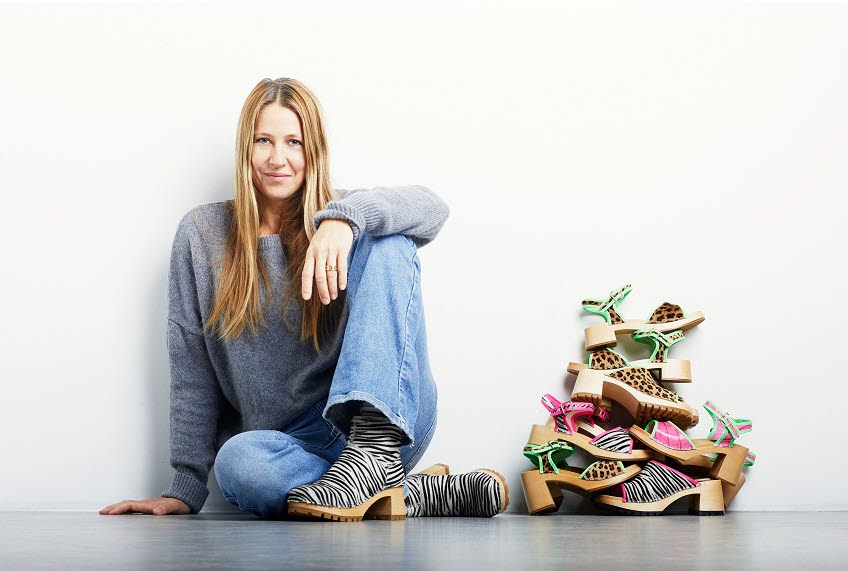 Clothes | Trademarks
Swedish Hasbeens - Great innovation in a small clog
Swedish Hasbeens is the retro shoe that became high fashion when it was launched. With the help of clear values that permeate everything from the company's production to trademark work, the clog has become a global success.
Swedish Hasbeen's founder Emy Blixt wanted to make inspiring and norm challenging high-heeled wooden sandals with natural wooden soles, colorful leather straps and carefully selected buckles. Today, the clogs are sold in over 50 markets worldwide. The company has six employees and an annual turnover of SEK 45 million. Emy explains that the secret behind the success is having the right product at the right time, a clear niche and consistently work in line with the company's values.
- Our value consists roughly in equal parts of our trademark, which we keep relatively discreet, our product, which is very niche and consistent but at the same time innovative, and our sales. The brand is well formed based on who we are and how we want to be perceived. We enforce the brand with our core values ​​through how we communicate in text and images on our online store and via social media. Being consistent and sticking to your concept is an art form, says Emy.
The brand is important in the global market
Swedish Hasbeens are big on the global market. 90 percent of the company's total production is exported, primarily to the United States.
- The trademark is an abstract but very important thing when working in a global market. It is important to think long-term and secure your positions, otherwise it can be expensive later on. We have had to pay for unnecessary costs because we have failed to think ahead when it comes to the trademark, says Emy.
She is referring to a process that arose when Swedish Hasbeens applied to register the word trademark in the United States.
- We already had our logotype protected in the form of a figurative trademark, but when we applied to protect Swedish Hasbeens as a word trademark, a conflict arose with another speculator. We had the law on our side thanks to being able to prove that we had been using the trademark for the longest time. It wasn't hugely expensive, but it was still a reminder of how things can go if you're not careful, says Emy.
Acting instead of protectionism
With a successful brand and a unique product in a global market, it is inevitable to become a victim of piracy. When that happens, Emy has the strategy ready.
- Others claim our trademark and we are copied all the time, but we mostly take it as a compliment because our strategy is not based on protectionism but on action. We will always be innovative, renew ourselves, run the fastest and be the best, she concludes.
The interview was conducted in 2022.
Test your business 
In the test, we will help you identify your intangible assets:
PRV School online
Learn more about trademarks and other intellectual property rights at the PRV School online.
Edited 2023-02-28