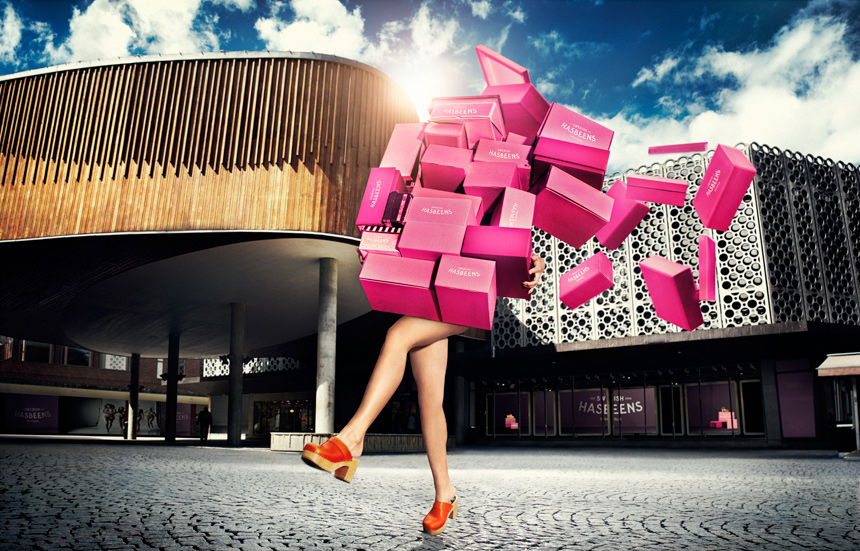 Swedish Hasbeens - innovation and retro in a wooden shoe
Swedish Hasbeens is inspired by nostalgia and history, yet wants to innovate and challenge prevailing conceptions. Producing retro things in a new way and breaking accepted patterns is the secret behind their success, believes founder Emy Blixt.
She wants to make wooden sandals on high heels which challenge and inspire the fashion world with their natural wooden bases, colourful leather straps and carefully chosen buckles. "Today, the wooden shoes are sold in over 50 markets around the world. "We are a Swedish fashion brand which makes high-heeled retro-inspired natural wooden sandals," explains Emy. 
Nostalgia and has-beens 
The name and the registered trademark "Swedish Hasbeens" refers to "hasbeens" and the fashion of wearing clogs which we had in Sweden during the 1970s, when wooden shoes were fashionable. The company's underlying concept is to work with creative and fun fashion stores around the world. The shoes stand for craftsmanship, style and environment in a unique blend and the result is an unusual "good enough" shoe. "The balance and the blend between the attractive, everyday, sexy and comfortable is what sets the sandals apart and has made them sought-after by women of all ages. Many customers say that in the shoes they can combine their various roles in life in a balanced way," says Emy. The clogs are linked to the traditional farmers' work shoes which in a new take are given an elegance which challenges our view of the clog as an object. The sandals are ideal for wearing with dresses or trousers, everyday or party clothes. 
The design process and the craftsmanship 
Emy Blixt designs all the wooden sandals herself and draws her inspiration from 1970s models. She works with shoe modellers in Italy and experiments with cardboard and leather. High heels of whole wooden soles are cut from a single piece of wood and authentically reproduce the original from the 1970s. Straps and leather are cut using press knives, wetted, placed on a last and dried in a slow process which follows the old Swedish technique. Swedish Hasbeens exclusively uses leather which is tanned using vegetable oils. The wood used for the highest heels has been dried for up to six months. The design process is a game of breaking taboos and customary conceptions as regards what a clog is and takes place in a close collaboration with the craftsmanship. 
Our ability to innovate is our protection. 
The company's underlying principle is to introduce something new to the market which does not already exist. "I have a liberal attitude towards copying and do not waste time and energy hunting down other people. If you are in the game, then let the game carry on. Being the best and responding the quickest seems more important. I get my energy from innovation and differentiating myself with the creativity and quality we can add. Thank goodness that the world is relatively free in that way", says Emy. Swedish Hasbeens works according to these premises and that is how the company has been built up. "When I founded my company, I relaunched a slipper that had been made in the 1970s. The craftsmanship had not died out in Sweden, but much had changed in the battle to become cheaper and more efficient and I had to set up a new production line with everything that entails as regards subcontractors and manufacturers. Inevitably, I then asked myself the question whether it was permissible for me to relaunch an old model," continues Emy. "It is good that we allow ourselves to be inspired by each other so that advances can be made," says Emy.
Domain names, trademarks and design protection 
When the company was about to carry out a major launch in the USA, the issue of the domain name hasbeens.com arose. In the USA, there is a club for retired Disney staff which had already registered the domain. We contacted the club and they kindly agreed to sell the domain name to us and we then proceeded to register our trademark in the USA. The trademark has now been registered in all important markets and design protection has also been obtained for the little sticker symbol that we put on every slipper. This sticker acts as a symbol of authenticity and a guarantee stamp. 
Partnerships and agreements 
The company sells its sandals in over 50 markets via agents, distributors and online. In 2011, a design partnership was established with HM. The shoes were sold in 50 of HM's flagship stores around the world. Half of all sales take place in the USA. "A lot of agreements have had to be established and this is particularly important in the USA. Demand from customers is inspiring, both as an entrepreneur and as a creator," says Emy. 
The interview was made in 2014.
Test your business 
In the test, we will help you identify your intangible assets:
PRV School online
Learn more about trademarks and other intellectual property rights at the PRV School online.
Edited 2020-08-18