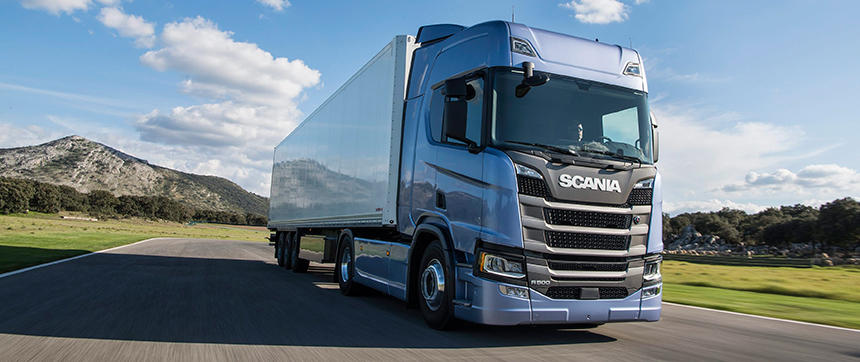 Fordon | Varumärke
Scania - a culture of secrecy
20 years – that is how long we have had to wait for Scania's new truck which was launched in August. The development of the new truck had been kept secret to create curiosity and safeguard the intangible assets themselves. "We are always quick off the mark and would rather acquire too much protection rather than too little," says Stina Sjögren Paulsson, Patent Manager.
Look around you the next time you go out in the car – there is a good chance you will come across a bus or truck produced by Scania. The Swedish company was founded in the late 19th century and is now one of the world's leading truck manufacturers. Despite its popularity in both Sweden and internationally, it is over 20 years since the last new truck model was launched - until this year. 
"Work on the new truck began around ten years ago and there has been an incredible culture of secrecy surrounding the launch," says Stina Sjögren Paulsson, Patent Manager.
Disguised in order to camouflage the design 
Virtually everything to do with the truck has taken place behind closed doors: test drives and tipping tests have been carried out away from the prying eyes of journalists - and the truck has also often been disguised. Stina says that much of the secrecy surrounding the truck was aimed not only at attracting as much attention as possible in connection with the launch, but also at protecting the product in terms of intellectual property rights right up until the last minute.
Scania leads the way as regards submitting design applications nationally and the company has registered many patents, trademarks and design registrations with PRV (the Swedish Intellectual Property Office). The department that works on the enterprise's intangible assets maximises Scania's value by safeguarding the innovative solutions and ensuring that Scania does not infringe anyone else's rights. "We also use licensing in collaboration with other stakeholders in the market," says Stina Sjögren.
A licence agreement means that the owner of an intangible asset gives someone else the right to use a patent, trademark or design. The agreement regulates the time period and markets concerned. 
Looking to be unique in the market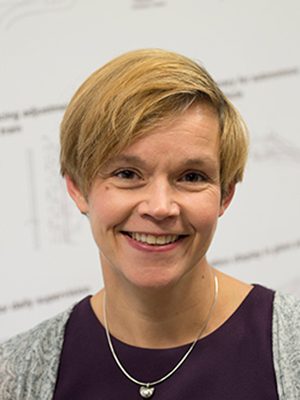 For Stina Sjögren Paulsson and her colleagues, it is a question of submitting applications to PRV at an early stage. "It is quite rare for Scania to launch a completely new design, and that means of course that we do not want anyone else to copy our exact design and take the honour for all the hard work we've put in," she says. 
Although the new truck has attracted a lot of attention, Stina stresses that everything from truck components to software has been developed and protected on an ongoing basis over the years – however, she describes the new truck as a combination of the best that Scania has produced so far.
"Everything is of course interconnected on a truck and we have improved everything from the steering system to bolts and chemistry - we have registered around 100 patents with PRV for the new model. It is quite simply the entirety with a new platform, for example, which has not been done since 1995. The new truck is the result of the best we have created over the past 20 years. 
Well-protected truck in good time 
At an early stage, Stina and her colleagues protected both technologies and designs for the truck by submitting applications to PRV. The manufacturing process has been structured and the patent department was brought in at an early stage to identify risks, compare products and techniques with those in PRV's databases, and identify opportunities for the new products. 
Scania primarily registers designs for the parts on the truck that are visible and those that can break or be replaced, while they apply for patents for technical solutions. The process is well thought-out. "We have many ideas at the start, then the process gradually becomes more specific. Many enterprises wait until the product is finished before they apply for patents, trademarks or design protection - we do precisely the opposite. We first submit an application for maybe ten variants and apply for patents for just as many, but by the end, perhaps only two of them will actually end up on the finished truck. Quite simply, we want to ensure that what we are doing is unique and that no one steals our ideas during the product development stage. It has been a successful concept, particularly as regards the production of our new truck. 
Stina's tips: How to draw up a good intellectual property rights strategy 
1. Check the market first. It is vital that no one already has a patent, for example, for what you want to produce. Creating something that someone else already has a patent for could prove to be an expensive mistake. Ask PRV for help to search through their databases, so that you can be sure no one else has come up with your idea before.
2. Decide what you want. Do you want to use your intellectual property rights to only protect yourself? Do you want to stop others or create collaborative partnerships on a more commercial level? Do you want to make money on your rights? Think through your aims and do not simply follow other people's advice. Ask an external intellectual property rights agent to help you if you do not feel 100% sure of what you are doing.
3. Start in plenty of time! Time is important as regards creating something new and it takes time to obtain a patent. Rapid advances are being made in most industries these days - the one with the earliest date on their patent application has a major advantage over others who follow on later.
The interview was made in 2016.
Intellectual property rights
A patent provides protection for a new technical solution to a problem and gives you exclusive rights to use your invention. A trademark is a symbol or mark for a product or service. It can consist of words, figures, letters/digits, personal names, slogans or sound. The appearance of a product is an important factor. If you have developed a completely new design which is unique, obtaining design protection is a good investment. 
Test your business 
In the test, we will help you identify your intangible assets:
PRV School online
Learn more about design protection and other intellectual property rights at the PRV School online.
Edited 2022-10-26