Packaging success
Erik Wallenberg had just started his job as a laboratory assistant at Tetra Pak when one day he became responsible for the whole laboratory operation. His boss, Ruben Rausing, gave him a task, to create a new milk carton.
Paper packaging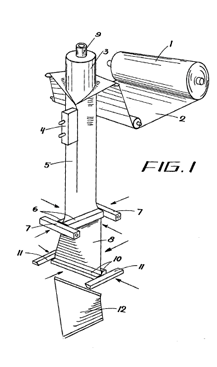 The milk carton was to be made out of paper, like its predecessors in the USA. Erik Wallenberg went home and started to think. In the end, he succeeded in coming up with a solution - a model where the carton was to be manufactured out of one single piece, a triangular tetrahedron.
Cheap manufacturing – 
a government requirement
The milk carton was cheap to produce, a requirement laid down by the government who wanted to keep milk prices down. The carton became a success all over the world. It became easier to transport the milk over long distances, something that was lacking in big countries like the Soviet Union.
The Great Gold Medal
At first, it was not Erik Wallenberg who received the fame, as his name was not on the filed patent application. However, in 1991 he received the Royal Swedish Academy of Engineering Sciences' Great Gold Medal for his idea and contribution in the development of the packaging system.
Continued success
The company, Tetra Pak, continued to develop products. Ruben Rausing wanted to succeed in the packaging industry. In 1963, a new patent application was filed, namely for the packaging which still has a place on our breakfast tables today, Tetra Brik. With it came also Tetra Pak's real success.
Edited 2022-04-12