With a focus on the author
Marika Lagercrantz is an actor, director and chair of KLYS, the Swedish Joint Committee for Artistic and Literary Professionals. We met her to talk about copyright and piracy from the perspective of authors.
Marika recently participated in an intellectual property law conference at PRV where she talked about subjects such as the importance of copyright for cultural creators' opportunities in terms of income, control over works and artistic freedom, as well as the need to take action against commercial, illegal operations.
In your speech, you mentioned the European Commission's proposal for copyright regulations for the digital single market, the DSM Directive.
"Yes, it's a proposal that will have a great impact on everyone who creates artistic and literary content online. We at KLYS think that authors, practising artists and their rights are and should be the focus of this directive.
There are incredibly powerful forces that want to influence our EU commissioners. That is why PRV's government commission to strengthen copyright is so great, so that more of us can have an influence."
"It's important that copyright is fully protected on the Internet."
Have you been the victim of piracy in your professional role?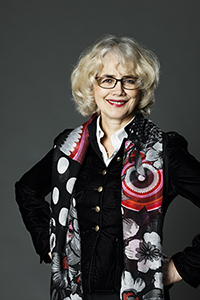 "Yes, several times. At one point I was suddenly a porn star in a large international context. They took my head, removed my body and replaced it with someone else's.
There have also been clips from films I have made used in a context and with a message that I would never have approved of. One example is music videos, another is texts and lectures. People are keen to quote me but rarely give me the intellectual copyright."
As chair of KLYS, what, in your opinion, is the most important role of copyright?
"From our perspective, it is the protection it provides to the individual cultural creator. It is important that copyright, both the economic and moral part, applies fully online. We have to defend the small actors, those who are here in our country. That is our task."
"We have to defend the small actors."
Edited 2021-05-26