Carolina Klüft
Carolina Klüft is both a popular athlete and a trademark. In 2003 her name was registered as a trademark in Sweden.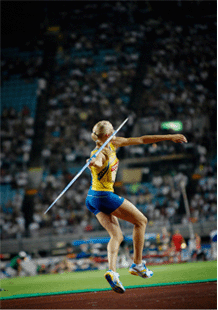 Names as trademark
Registering a personal name as a trademark is quite common among persons with a name used in official contexts. Carolina Klüft is one of those who has chosen to register her name as a trademark.
Several goods and services
Carolina Klüft quickly became an appreciated athlete in Sweden. The trademark Carolina Klüft is registered for several goods and services, for example clothes and education. The picture on the right was taken by Ryno Quantz from the Swedish Athletic Association.