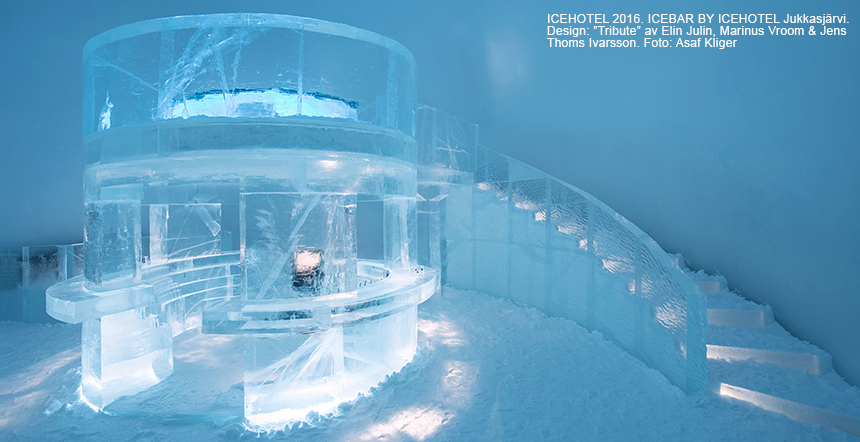 Entertainment | Trademarks | Patents
Icehotel – the hotel, the artwork and the award-winning trademark
There are many ice hotels around the world, but only one Icehotel. The Swedish tourist attraction in Jukkasjärvi attracts 50,000 visitors every year to the banks of the River Torne. Icehotel has always been conscientious with its approach to its trademark and has registered it with PRV (the Swedish Intellectual Property Office).
For a hotel in Jukkasjärvi, just east of Kiruna in the northernmost part of Sweden, the trademark is vital, to say the least. This is not just a hotel you drive past and decide to check in at. You come here with one objective. 
"When we started, we also applied for and were granted national patents by PRV for various building techniques using snow and ice. At that time we were constantly being affected by infringements. There were always people snooping around here. In the end, we got tired of complaining, so we adopted a different intellectual rights strategy. We focused firmly on building our trademark," says Yngve Bergqvist, Icehotel's CEO. 
It costs SEK 1,800 to submit a digital trademark application to PRV, which includes one trademark class. For additional classes, an investment cost of SEK 900 per class (2016) is payable. Icehotel holds exclusive rights in six trademark classes, e.g. for noble metals, printed matter, and serving of food and drink.
The trademark - a global asset with franchisees around the world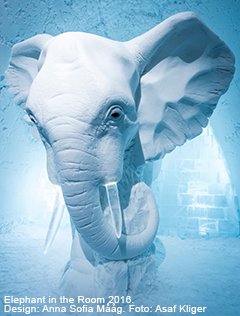 Yngve originally founded the concept. In the mid-1980s, he was involved with adventure tourism in the region. He then constructed the Artic Hall art hall – a gallery built from snow and ice. This was  the predecessor to today's Icehotel.
The first ice hotel was completed in 1989, the first of its kind anywhere in the world. Yngve quickly realised that others would attempt to profit from the idea and copy the product. He therefore registered the name as a trademark with PRV at an early stage. Today, other ice hotels have been constructed, including in Finland, Norway and Canada, but none of them are an Icehotel.
"We have protected the trademark throughout most of the world. At least in every part of the world where the climate enables buildings to be made from ice. We have focused very strongly on the name and actively monitor it. It is not very often than the name is infringed these days. We take action when it does happen," says Yngve. 
Through collaborations and franchise agreements, Icehotel has leased its name to ice bars around the world. The Icebar concept by Icehotel is a registered trademark. Here, guests can dream about the shores of the River Torne while being served drinks at five below zero. This is regardless of whether they are in Tokyo, Budapest or Copenhagen.
Today, the biggest bar is in London, where every year 200,000 guests are served drinks surrounded by sculptured ice from the River Torne. It is probably no coincidence that the majority of Icehotel's foreign guests come from the UK. 
The hotel only exists for four months a year, but it is profitable all-year round thanks to the trademark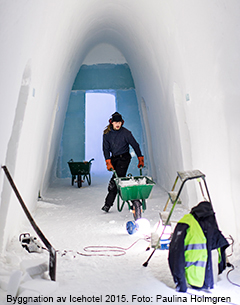 Once autumn arrives, construction of the Icehotel gets under way. During the spring, enormous blocks of ice weighing 2,000kg are cut from the river. They are then stored in a 2,000 square-metre ice warehouse and prepared for use in creating the work of art that is Icehotel. In November, artists selected from around the world assemble to hack, grind and shape hotel suites, a church and a bar, among other things. Around four months later, when the sun and warmth cut through the snow and ice warehouse, everything melts back into the river again. It is the transience that is the very core of the business.
Approximately 80 percent of a company's value consists of intangible assets; in the case of Icehotel, it is considerably more than that. How does a hotel business which only has its rooms available for one third of the year become such a success? How can it even survive? The strong trademark, and the knowledge as regards how it is exploited, is the answer. 
"It is about staying on your toes and taking the initiative. Our trademark is strong and our intangible assets exist all-year round even though the hotel itself only exists for a limited period of time. Building a trademark is not something that just happens by itself," says Yngve. 
Frozen trade secrets 
For Icehotel, the tangible assets melt in April, even though visitors still come during the summer months. The story of Icehotel, the community, the river and the 5,500-square metre ice hotel constitutes valuable information.  This information attracts inquisitive visitors to Jukkasjärvi. However, the precise method used to produce ice sculptures, building blocks and ice glass are trade secrets. They stay within the hotel's walls. 
The interview was made in 2016.
FACT BOX
Useful information to consider when choosing a trademark:
Prepare thoroughly in advance if you have international ambitions - you do not want to infringe other people's intangible assets. Choose a trademark which is not too close to your competitors.
Check what the trademark (the word, the figure, the colour) might mean and how it could be interpreted in other countries. It is important that you do not cause offence.
Apply for trademark protection before your launch, so you can be certain that you own the rights to it. Switching trademark can be very expensive at a later stage.
Check that your intended domain name has not already been registered by someone else. Register!
Use your trademark, build it up and increase awareness of it. You can then sell licences and expand the business, for example.
Monitor your assets. You do not want your competitors to benefit from the investments you have made in your trademark. 
Test your business 
In the test, we will help you identify your intangible assets:
PRV School online
Learn more about trademarks and other intellectual property rights at the PRV School online.
Edited 2023-04-28