ICA
ICA has been a well-known trademark for many years. The trademark ICA is using today is both a figurative mark and a collective mark.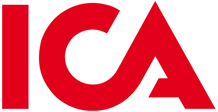 Figurative and collective mark
The trademark ICA is a figurative mark, as the text has been produced in a particular typeface. It is also a collective mark, as it is used by several companies in an association.
Long history
The foundation for ICA was laid in 1917, when there was the idea to merge and form joint purchasing groups. The trademark ICA was registered for the first time in 1949 and since then the trademark's scope of protection has expanded a number of times.