Löfbergs Lila
Löfbergs Lila has both their logotype and their purple shade registered as trademarks in Sweden.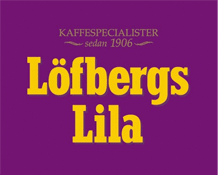 Colour associated with a company
Löfbergs Lila has registered their colour trademark for coffee-based products and the colour is only protected in regard to those products. It was registered in 2005 after they had proven that the specific purple shade is associated with Löfbergs Lila. In 2007 the company received the Signum award, a prize which is awarded annually to Nordic companies who sees to it that their trademarks flourish long-term. Löfbergs Lila received the award because they had used the colour as their trademark and managed to register it, among other things.
The word Lila
In 1927 Löfbergs Lila had eleven types of coffee blends with different colours on the packaging. The blend that had the purple packaging was originally called Löfbergs Lyxblandning (Löfberg's luxury blend). However, customers started calling it Löfbergs Lila (Löfberg's purple) which led to them registering it as a trademark later on.